Posted on 27 July 2020 by tom
Hat Trick Of Success For Procure Direct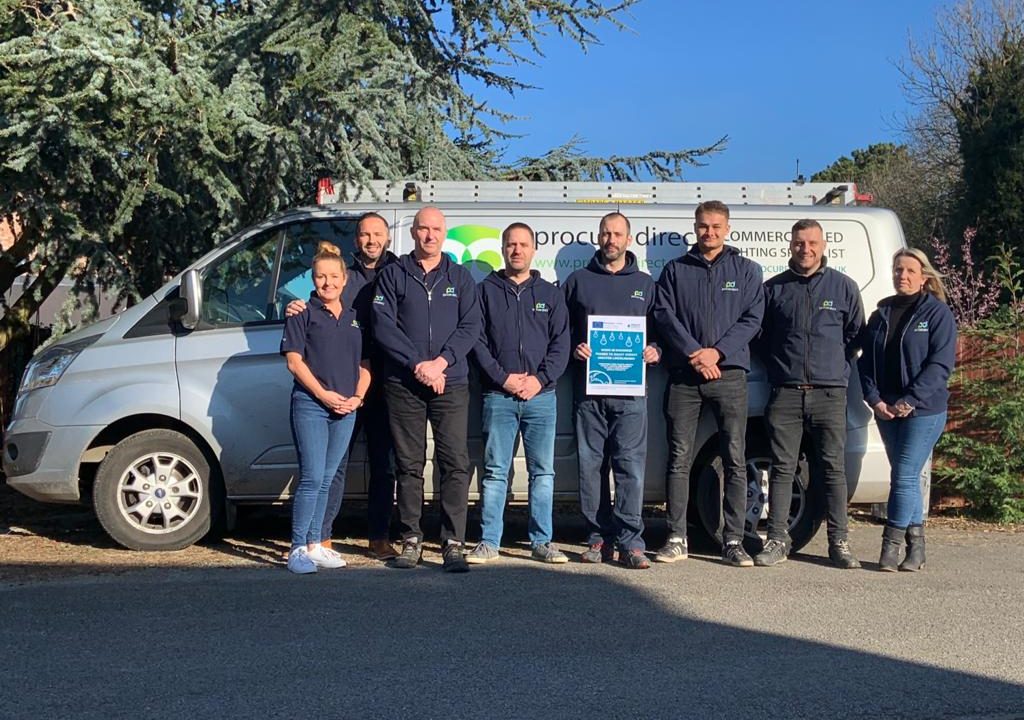 Record Year – New Offices – 15th Year In Business
A specialist lighting and heating company from Lincoln is celebrating a hat trick of successes.
Procure Direct, which supplies LED lighting and far-infrared heating solutions, marked its 15th year in business on 27th July with the news that it had recorded its best ever financial year, with turnover up 50% year on year.
The business, which is currently based in Sudbrooke, is also preparing to move into new offices in the next few weeks.
Procure Direct's directors, Helen and Spencer.
Established in 2005 by directors Spencer Coffin and Helen Callaway, Procure Direct employs a team of seven, and designs, manufactures and installs energy-efficient lighting and heating solutions.
Turnover has risen by 50% year on year thanks in part to school and shop closures due to the pandemic bringing forward LED lighting projects.
The record-breaking year has enabled Spencer and Helen to purchase their first commercial property on Lincoln's Allenby Industrial Estate. Work to transform the 3,100 sq ft property started at the end of last month and will see the empty shell transformed into modern offices, with the company's LED lighting, far infra-red heating and solar PV systems currently being installed.
"We started Procure Direct in our living room, sourcing lighting and heating solutions from contacts I had built up in my ten years of working for other people," says Spencer. "We've worked incredibly hard over the years and have also received some fantastic support from people we've worked with. Procure Direct now has its own design and manufacturing facilities in China and offers incredibly advanced heating and lighting solutions at very attractive prices.

"As well as excellent products, with a market-beating warranty, we also have a fantastic installation team, which means we can offer a complete turnkey solution to our clients."
Procure Direct has been particularly successful in the education section, installing LED lighting into more than 75 schools. The business has also helped reduce energy use and utility bills in warehouses and retail outlets across the country.
Over the last 15 years, Procure Direct has installed more than one million energy-saving LED lights, saving its customers over £20 million in utility bills in that time.
"The last 15 years have been amazing and have gone so quickly," adds Spencer. "We will be treating the team to a little socially distanced celebration, but we've got lots on at the moment so we won't be relaxing for too long!"
As well as working extensively in education, Procure Direct is currently installing LED lighting into retail stores, a football ground and several factories. The company has also introduced a commercial range of vandal proof solar LED bollards, Pedestrian lights and street lights which have proved popular with local authorities and large outdoor leisure sites.
Procure Direct will be moving into its new premises at the end of the month. The property was marketed by Banks Long & Co, with Procure Direct receiving a commercial mortgage from HSBC.
Banks Long & Co trainee surveyor Harry Hodgkinson said: "We are delighted to have sold the Crofton Drive unit to Procure Direct and that this deal marks the company's move into commercial premises at a key point in its history.
"We wish Director Spencer Coffin well as the company enjoys a period of rapid growth which has been partially driven by the pandemic and also the launch of new ranges."